HC-2 Wireless Handheld Controller with Color Touchscreen
Two Models:
HC-2
(Indoor Use)
HC-2-SUN (Extra Bright Screen to be Usable in Outside Sunlight)
The HC-2 is a wireless controller with a color touch screen that can be used to operate your model railroad layout. The HC-2 can control the speed, direction, lights, and sounds of locomotives and other accessories by simply touching the screen! RailPro products are equipped with Direct Radio and are designed to work together. Direct Radio allows the RailPro components to communicate with each other without any wires! Direct Radio is very fast giving your RailPro products quick response to your controls. You will need to purchase RailPro ready products, or install RailPro modules into your locomotives and accessories that you want to control. The color graphic screens make it so simple to use, that most users will find it unnecessary to use the manual to even setup advance features.
Simply touch the screen to take control of a locomotive or accessory, adjust settings and much more!

Direct Radio allows RailPro components to communicate with each other without any wires! Direct Radio is very fast giving your RailPro products quick response to your commands. Also, Direct Radio has two-way communication that allows your HC-2 to transmit and receive information!

Setting up your RailPro system is easy. When you buy new RailPro Ready products, or new RailPro modules for locomotives and accessories, simply press the "Find Product" button and the HC-2 will automatically load a picture of the product. You can take control of the product by touching the picture of the product!

With a couple touches on the screen, you can link multiple locomotives together for more pulling power! With one more touch, you can unlink the locomotives. Our Direct Radio technology allows the locomotives to communicate together to ensure each locomotive pulls its share of the load.

Multiple HC-2's can be used at the same time to allow additional family and friends to enjoy your model layout! Also, multiple locomotives and other accessories can be used simultaneously for complete model layout control!

The HC-2 is equipped with a large metal control knob. The control knob is very smooth and has extreme resolution. You can go from 0 to 100% speed in only one turn while sending 1,000 different speed settings to your locomotives for fast and accurate control!

The HC-2 comes complete with built in rechargeable batteries. The HC-2 can run for over 12 hours* on a single charge providing all day model railroading fun!

The HC-2 is equipped with USB port to connect to a PC. You can go to Ring Engineering's Internet site and download new pictures, sounds, and even new programs to add more functionality to your RailPro system. You do not need a computer to use the HC-2, but this can prove to be a very useful feature.

Size 6.1 x 3.4 x 1.5 Inches

* Model HC-2 has more than 12 Hours of battery life with screen at lower brightness setting. Battery life of 8 to 9 hours is typical with a bright screen setting. Model HC-2-SUN runs over 8 hours with a bright screen and over 5 hours at full screen brightness.
All specifications subject to change without notice.

Stock Status: Expected to ship about the end of December
HC-2 Price $299.99 MSRP
Stock Status: Expected to ship about end of December
HC-2-SUN Price $329.99 MSRP

Actual HC-2 Screens to Select and Control Products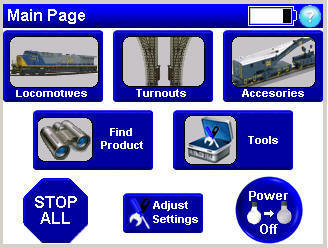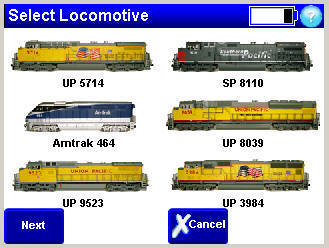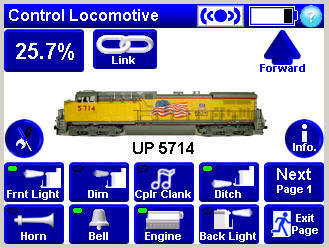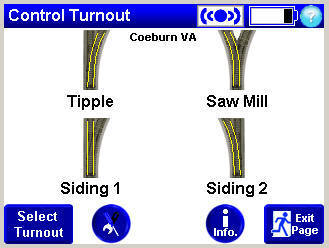 Pages to Setup Locomotives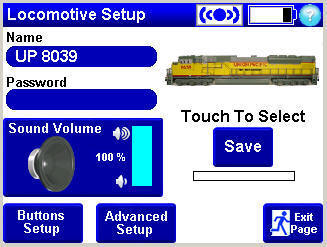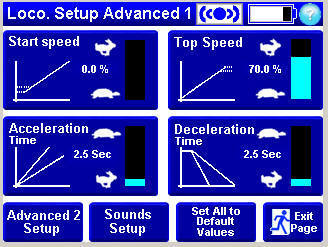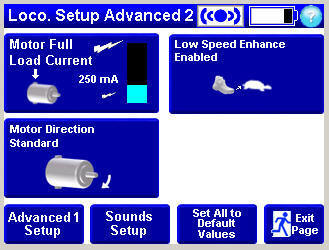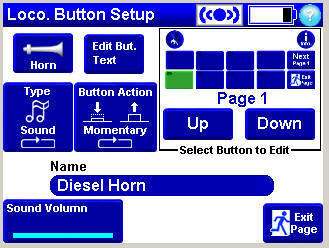 Pages to Copy Files, such as Pictures, Sounds, and Light Effect Files from the Internet and to your Products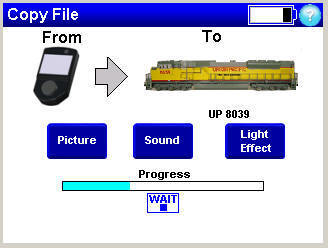 Help Pages
Available for almost every screen. Displayed when the '?' in the upper right corner of the page is touched. Contents explains how to use buttons on each page.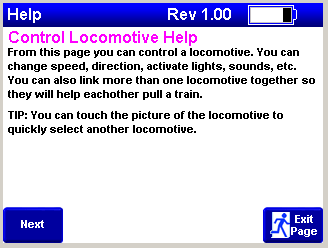 The above pages are some samples of HC-2 screens. The HC-2 has more screens than shown above.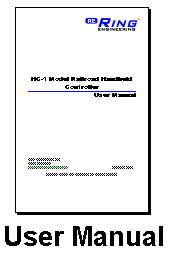 Package Contents:
HC-2 Handheld Controller
Battery Charger (100-240VAC 50/60Hz)
USB Cable
User Manual
Quick Start Guide

US Patent 8,807,487 and 10,780,362
Made In USA
Not recommended for persons under the age of 14

HC-2 Frequently Asked Questions

What operating system does the HC-2 use?
Our products use RE-OS. Ring Engineering Operating System.
Why did Ring Engineering develop its own operating system for their products instead of using Android, Windows mobile etc?
Keep in mind that Android, Windows mobile, etc, were not designed to run model trains. Large companies control new versions of common operating systems and are not likely at all to let any model train companies know about changes until they are released. This can take a company that uses off the shelf OS by surprise and make them scramble to make hardware and software changes to be compatible. In some cases it may be unreasonable or impossible to do so. Then what? ....they may tell you 'I am sorry but you need to buy all new hardware!!!' Large companies have inside information on changes and huge development teams that can handle changes like that where model train suppliers are very unlikely to have such resources because the model train market is much smaller than say the cell phone market. Since Ring Engineering developed every line of code for our products, we will never be taken by surprise when operating systems changes happen. Our operating system only changes when we decide to change it! We control our destiny! Those companies that are using off the shelf operating systems do not! We have certainly seen in the past when large companies purposely change software to obsolete older version to get you to buy new. At Ring Engineering we know it can take years to finish a model train layout and our goal is to provide compatible products for very long times.
RE OS was designed to operate model trains! It is small and fast and not loaded with bloatware like common OS's and that means lower costs and longer battery life!
We tried using off the shelf products but we had so many problems including apps that would pop up over our train app and cause us to crash trains etc. Since RE-OS was designed to run trains these things do not exist with RailPro! RailPro is easy, dependable, and enjoyable!
Will I have to wait forever for the Handheld Controller to startup from a power on?
NO. Unlike Android and Windows devices we have seen, that seem like they take forever to boot up, a RailPro handheld controller with RE-OS is ready to control locomotives in about one second from pressing the power on button. Yet another advantage of making our own operating system.

How many locomotives and handheld controllers can be used at the same time?
There is no limitation on the number of locomotives you can have on your layout. The handheld can have hundreds locomotive pictures loaded into it. For each handheld controller you have you can set 24 locomotives in motion. You can be driving 24 trains with a single handheld. You can run any 24 of the over 100 locomotives loaded into a handheld controller. If you have 24 locomotives in motion with a single handheld controller, than you would need to stop one locomotive to put another in motion. If you have a second handheld, you can run 24 more trains for a total of 48 trains running at the same time. Three controllers can operate 72 locomotives in motion and so on. It would be normal for all handheld controllers to have all locomotives on the layout loaded into them so any user can run any locomotive. The limit of 24 locomotives per handheld in motion was selected because we do not expect any one user to be able to keep track of that many trains at the same time and therefore is not a limitation at all. There is no limit on the number of handheld controllers that can be used. With 40 handheld controllers the response time should be just about the same as with one controller (very quick). As you get over 40 the response time may or may not slow down. Our Direct Radio is much faster than DCC so RailPro's response time will be much better than any DCC system.

How many turnouts can be controlled?
There is no realistic limitation on the number of turnouts that can be controlled by a RailPro system.


If I link different types of locomotives will they run well together? (This is often referred to as Consisting or MU'ed)
YES.

In fact you will only need to set one adjustment to get locomotives with even different motors and gear ratios to work very well together. The one adjustment that needs to be set has an auto set feature. You can actually setup different locomotives to run well together in under a minute. All you need to do is run the auto set feature for the Motor Full Load Current adjustment on each locomotive.
The way RailPro links locomotives together is patented technology and unlike any DCC system. Direct Radio allows RailPro locomotives to communicate together almost instantly to be sure that each locomotive pulls its portion of the load and runs smoothly together. Any DCC system that we are aware of, only allows communication to locomotives and the locomotives cannot talk to each other. Ring Engineering's Direct Radio allows all RailPro products to communicate in both directions at full speed! Two way, full speed communication is key to many of RailPro's easy to use and unique features including the way linked locomotives run together.

How far does the Direct Radio signal reach?
You can control locomotives on huge HO scale layouts with outstanding control using Direct Radio. The Direct Radio signal can reach over 100ft in an open environment. When properly setup, you can achieve fast and dependable control that has the feel of being directly wired to your locomotives.
If you want to control your trains from the far side of your layout, we recommend a repeater every 15 ft for areas divided into small rooms. Our power supply has Direct Radio built in and can be used as a repeater. With one PWR-56 in the middle of the layout, you can expect outstanding coverage for a 30 ft x 30 ft layout while transmitting through multiple walls. If the room is open, it may work well for 50 ft x 50 ft or even larger areas with only one repeater. The current program in the handheld controller lets you use up to 4 repeaters for outstanding coverage on huge layouts.
You can run RailPro without a repeater. For example using only a handheld and locomotive equipped with a RailPro module. If you follow your trains (staying within 15-20 feet) you will not need a repeater and you can expect fast and dependable control. However, if transmitting through multiple walls, you might find that at some angles you will loose communication at 40 feet away. By adding repeaters as necessary, you can get fast and dependable control from over 40 feet away through multiple walls.

Since RailPro is all wireless and can transmit over 100 feet, can anyone control my train set?
No. RailPro has a simple solution for stopping unintentional or unauthorized users from controlling your equipment. You can set a password in each piece of RailPro equipment. For example, when you set a password in a locomotive module, then only the people that you share the password with will be able to control your locomotive. This is a great feature in a club or model train show environment because you can have complete control over who can control or adjust your RailPro products.

Is the response time good?
YES. The response time is so good that you feel like you are connected to the locomotive. As soon as you change speed, the locomotive instantly responds. The touchscreen is so fast that you feel that there is no detectable delay from pressing the screen to seeing the action on a locomotive such as the lights turning on or off. The exceptionally smooth speed control knob gives you the feel of using an analog controller!

If I install a RailPro locomotive module in a locomotive that I already own, what do I need to do so the handheld controller will display a picture of my locomotive?
Since Ring Engineering does not know what locomotive you are going to install a locomotive module into, our locomotive modules are preloaded with a generic locomotive picture. You can change the picture on your locomotive module to match your locomotive. You can load pictures from Ring Engineering's Internet site or use our RailPro Assistant software to convert your own pictures to RailPro format and load them to your handheld controller and locomotive modules. If you find a picture of your locomotive on our Internet site, you can load it to your locomotive module for no charge. If you cannot find a picture of your locomotive, then you can take a picture of your locomotive with a digital camera and email your locomotive picture to Ring Engineering or use our RailPro assistant software to convert it to RailPro format.

Is it difficult to get files like pictures, sounds, and light effects from Ring Engineering's Internet site?
NO. Basically you use our RailPro Assistant software to select from lists of pictures, sounds, light effects, and programs available from Ring Engineering's Internet site to download. Connect your handheld controller with a USB cable and press the download button on the handheld controller. The handheld controller will copy whatever files you selected from Ring Engineering's Internet site onto your handheld controller. To send a file to a locomotive, you select Copy File, choose the picture of the locomotive you want the file to go to, and then choose the file to copy. Then you go to the adjustments and setup the locomotive to use the new file. See RailPro Assistant Program for complete details.
Is your software to get pictures, sounds, etc, from the internet compatible with Microsoft Windows?
YES. Our software can run on Windows 10, Windows 8, Windows 7.
Is your software to get pictures, sounds, etc, from the internet compatible with Macintosh?
No.
We currently do not have Macintosh compatible software. We have some Mac users that use bootcamp or parallels to run our PC software. We know there are some Mac users and at some point we may provide Mac compatible software. Our newest software was written from the ground up to be multiple platform friendly. So the software we plan to release soon will be easier to make Mac compatible than our older program.
Is the Handheld Controller comfortable to hold
?
YES.

The handheld controller has a rounded back and corners to feel comfortable in your hand. Since, the handheld controller only weights about 4 ounces more than the typical cell phone, it is heavy enough that you know it is built well and light enough to easily hold for all day fun.

What about RF interference?
Our RailPro system uses advanced technology like cell phones where many can be in use at the same time in the same area. Our products are not like the easily disturbed RF products found in many toys. This makes it unlikely that you will experience any interference. Our products have worked successfully around wireless computer networks cell phones etc. Any RF product may have, or cause, some type of interference but because of the technology that we use it is very unlikely. At the time of this writing we have really had no users complain about not being able to dependable control their trains with RailPro.

Is using a tablet or touchscreen phone with a train control App like using RailPro?
No.

Not at all. We started our development with an off the shelf generic touchscreen handheld computer. Shortly afterward we realized that was completely the wrong direction and would never make a good product for the user. What we realized was that we needed to develop a handheld controller from scratch with the goal of controlling your model train layout. Some problems with the off the shelf touchscreen computer that we encountered included:
1) We found that using a touchscreen for a throttle was unacceptable. The problem is that you needed to be looking at the screen to adjust the speed accurately and the feel was poor at best. You need to be looking at the train engine to properly connect couplers etc. This is why we included a real knob on the RailPro controller. So you can have your hand on the speed control knob and still be looking at your train. What is the point in having a controlling device that is not actually a good throttle?
2) The developers of the phones and tablets change their products quickly and it is unreasonable to think that they will ask the opinion of model railroaders when they develop new equipment because this is not the market that they target. Therefore if you want a throttle just a couple years from now, you have no idea what you will be able to get or if it will even be compatible. With RailPro we control the hardware and a top concern of ours is long term availability and compatibility with a RailPro system. Further, it is also unreasonable to think that the software developers will get any advanced notice of hardware changes or even complete operating system charges! Therefore, after a couple of years, the software developers will likely always be trying to catch up with whatever new device is being sold. We believe this alone can stop any company developing for modeling because of the inability to keep up with constantly changing hardware. With RailPro, our hardware will never change without our knowledge and our software development will not be hampered by constantly changing hardware without notice.
3) We had problems where other apps would pop up or interrupt the train app and the train app would be inaccessible or would cause communication problems. If the app becomes inaccessible you cannot stop your trains! This does not happen with RailPro because there are no other apps to interfere.
4) Typical consumer computer networks are not guaranteed real time. The response time can be anywhere from good to no control at all. With RailPro, at least 40 simultaneous users will have guaranteed fast response and hundreds of handheld controllers are likely to work very well.
5) Product instability is a problem with off the shelf computers. The odds of you buying the same product only a year later is unlikely. So it may be necessary to support different software programs, different OS's, different networks etc.
6) Network setup with RailPro is as simple as pressing the Find Product button and selecting a repeater if necessary. Any PC network we have ever dealt with is far more complicated and problematic.
7) Nobody wants to wait until their PC's booted and make a wireless connection just to drive a train. With RailPro the handheld is ready to control trains in about one second. Who would want typical PCs problems involved in operating their train set like software crashes, reboots, hard drive failures etc.?
8) With RailPro you do not need a PC down by your layout. You do not need to buy a PC just for your layout.
9) Don't you think that buying products from many manufacturers, instead of just one, is much more likely to have problems? Also, if you have a problem don't you think that it will be more difficult to fix? For example, if you get a touch control product from manufacturer A, software program for the touch control product from programmer B, PC from manufacturer C, wireless network product from manufacturer D, PC to train control system interface product form manufacturer E, software for the PC to train control system from programmer F, and the train control equipment from manufacturer G....then who is going to be responsible for fixing a problem with a system like this???
Ring Engineering's RailPro system has color touchscreen controllers, outstanding software, and a complete easy to use system available from one source. Further, it is available today!
10) Battery life was too short. Our Handheld controller can run up to 12 hours* on a single charge for all day model railroad fun.
Therefore, what we learned is that you need proper hardware and software to make a better train control system. It takes years of software development to obtain a well written, dependable, and easy to use interface like RailPro has. Because of the high level of technology in our controller it took years to develop the handheld controller. Further we tested it for years to be sure it worked very well before it was sold. RailPro has been in development for nearly a decade and we are confident that it shows in our RailPro product. Because RailPro's base hardware and software have been completed, future products can be developed much more quickly and easily.
11) Our handheld is designed to be held all day so you can follow the action around. In our opinion holding a tablet all day to run a train is unacceptable.

Does this mean Ring Engineering will never make a smart phone or tablet interface to RailPro?
We know that since a lot of people have smart phones and tablets these can make low cost throttles (maybe not very good ones but at least low cost) for occasional additional user that want to join in on the fun. For that reason an interface for such products is on our possible projects list.

Copyright © 2019 Ring Engineering, Inc.