RailPro HC Simulator Software



Computer Monitor Not Included

The RailPro HC simulator software is a program for your computer that will draw a RailPro HC-2 on your personal computer screen and allow you to control and setup RailPro modules like the RailPro locomotive modules! You can do everything with the HC Simulator that you can with a real HC-2 handheld controller! All you need is the low cost CI-1 Computer Interface module to add Direct Radio to your computer. The CI-1 Computer Interface plugs into a USB port on your computer.

Price $FREE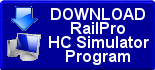 Revision 2.31
PC Requirements: Windows 11, Windows 10, Windows 8, Windows 7.
Requires CI-1 Computer Interface Module Sold Separately
Click here to go to the CI-1 Page
Pressing the above download button will load a copy of the
Ring Engineering RailPro HC Simulator Software onto your computer.
See the User Manual below for installation instructions.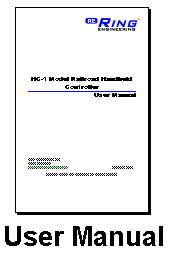 You use the mouse wheel to simulate turning on the handheld controller knob. The mouse wheel is used to set the locomotive speed and change the slider value for adjustments. Since the typical wheel mouse has much less resolution than a real RailPro Handheld controller knob, the wheel mouse sets locomotive speed in 1% increments for 100 total speed steps. A real RailPro Handheld controller sets speed steps in 0.1% increments for 1000 total speed steps.
US Patent 8,807,487
Made In USA
Not recommended for persons under the age of 14


Copyright © 2018 Ring Engineering, Inc.